It's been two months since we launched the new website for our latest client, and we're happy to report some impressive statistics that are a direct response to our efforts. By impressive we're talking about a 419% increase in organic traffic and a 64% increase in website sales.
First, let's state the obvious. A 419% increase in organic search traffic may sound insane. No, we did not use magic nor did we cheat the analytics to portray these results. The truth is, we gave the website the two basic things a website needs to see results: a mobile-friendly site and a well-constructed SEO (Search Engine Optimization) plan.
Yes, these are considered basics, but these basics happen to be the most important elements a site should have. Unfortunately, SO many small businesses I have talked to are not educated on why they need to implement these. They aren't sure how to start or what to look for or who to hire.
These are the exact questions our most recent client came to us with. The client told us they wanted better organic search traffic and a redesigned, responsive site to help drive more sales through their website. We were able to give them exactly what they asked for and you'll see both our efforts and the client's results explained below.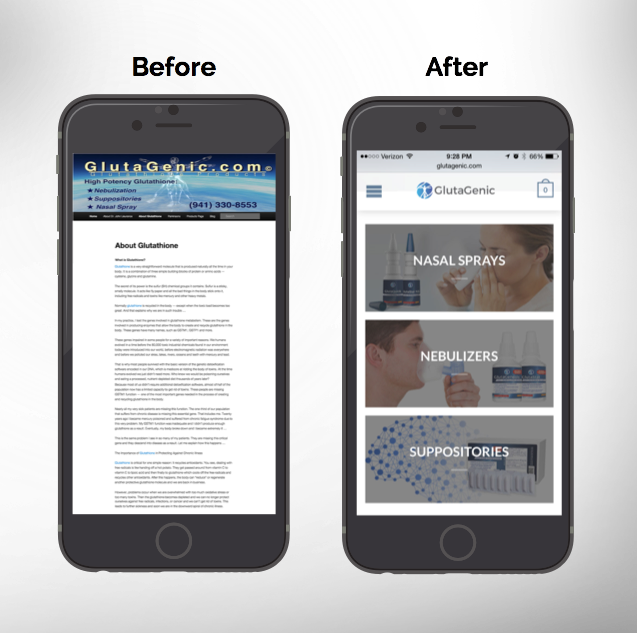 One Client's Success Story
After meeting with the client and getting a clear understanding of what was expected, we dove into an audit of their existing website. Unfortunately, when we looked under the hood of this client's website, we were in for a bit of a shock. There were more than 6 domains concerning the same topic with over 200 pages, riddled with duplicate content and page errors. We worked closely with the client to come up with a plan and then got to work.
Our Efforts
Redesigned the site layout to include only one domain with about 20 pages (including product pages)
Developed a user-friendly design, making it easier for site viewers to convert
Implemented an SEO plan that involved more pointedly marketing to the target audience
Redirected all of their old web pages and preserved the link juice
Aligned all aspects of the website with Google's best practices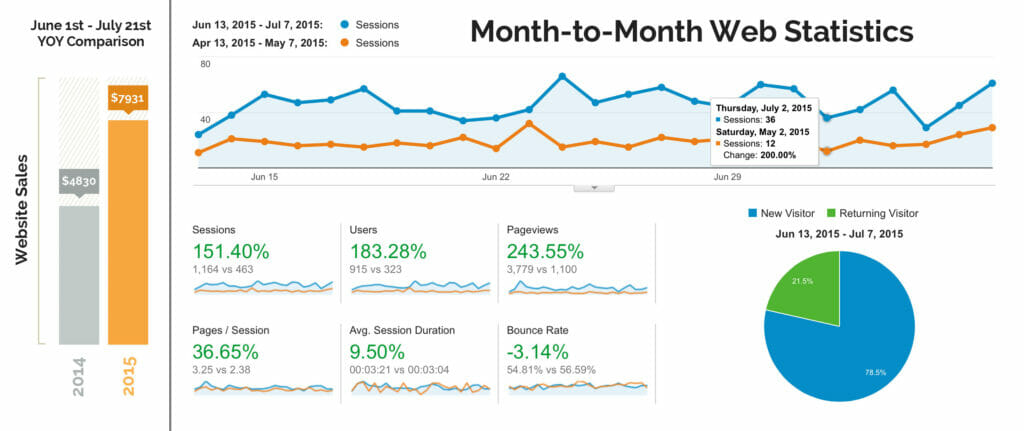 With these efforts, we were able to see huge results! Below is a comparison of the month before we launched the new site and the month after we launched the new site.
Client's Web Traffic Results
419% increase in organic search traffic
183% growth in users
10% surge in visit duration
3.14% improvement in bounce rate
244% growth in page views
36% rise in pages viewed per session

Client's Sales Results
64% increase in direct website sales
More impressive than the website results is the increase in website sales we've seen. Sales for June and July have increased by 64% this year compared to June and July last year!
But what's to say this isn't influenced by other factors? Well, when you compare January to May sales in 2014 to January and May sales in 2015, 2014 actually had MORE sales than 2015. If declining sales has been the trend all this year, one would expect June and July to continue to follow that trend, yet we are seeing a 64% INCREASE in sales since the launch of the new site!
I believe it's safe to say these results are due to our efforts in redesigning and re-constructing their website. The truth is, YOU CAN SEE THE SAME RESULTS!
Why SEO and Responsive Design Matter
Having your website rank well on Google, Bing, and Yahoo is one of the best ways to ensure that your site will find its way to as many potential customers as possible.
In addition, Google has recently made a strong push to get websites on the mobile-friendly bandwagon. The reason behind Google's push is simple: mobile traffic now exceeds desktop traffic, as explained in this Search Engine Watch article.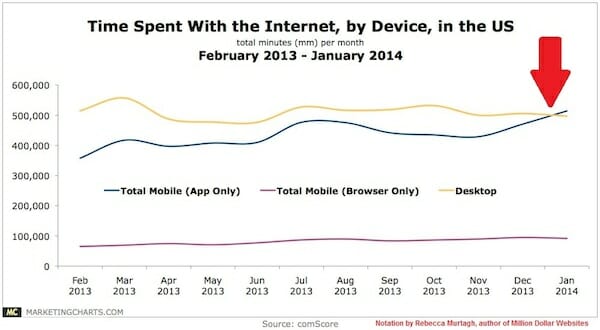 Google has even gone so far as penalizing websites that fail to make their sites mobile-friendly, which I discussed in a blog post on responsive web design back in April.
Through proper SEO practices and a responsive, user-friendly site design, we were able to see this client's business increase exponentially.
At One Fish Two, our team takes pride in seeing our clients experience success as a result of our work. We're always expanding our techniques and practices to stay on top of the ever-changing world of SEO and we look forward to working on new projects, facing new challenges, and creating more client success stories.